I love books. I love reading. I read (almost) all kinds of books.
I have lots of favorite authors. But these two, are my two top authors right now.
First,
Mitch Albom
, and second,
Jodi Picoult
.
Mitch Albom had released four novels so far.
Tuesdays with Morrie, Five People You Meet in Heaven, For One More Day, and Have a Little Faith.
I've read Tuesdays with Morrie, I borrowed from my friend at the college. And I owned the next two books. The last one is his newest novel, just released on November 2009 (which is like so brand new, 2 months ago). I feel so excited knowing about it and can't wait to have it and read it!
Today, me and my mom went to the bookstore. The most famous bookstore in Indonesia – you know what. While my mom busy with herself at the cooking and food section, I wandered around imported books section, when I found this:
Ohmygodohmygodohmygod. Here you go the book I was desperately wanting last night! So I took it and look at the price:
Rp 255.500
.
Boo! Darn expensive! I know it's normal. Since it's an imported book. Hwahhh, and if you notice, imported books are always the most untouchable section. Hahaha, why? Because it books are in foreign language and it's expensive!
Too bad, huh? Those imported books are good quality books actually. But maybe not many people go to that section, because of that two reasons. It's freaking English, and it's expensive. Huhuhuhu.. So, the price broke my heart. I shall wait until it translated to bahasa version I guess, so it'll be cheaper price *chuckled*
....

Few hours later, mom finished picking few cooking books and me pick
nothing
. We go downstairs and found out there's a big end of year (even though it's new year already) sale
up to 80%
! Mom, forgot she just bought 6 books before, went crazy seeing those discounts. Me too :). So we split, find our different favorite section, and I was hoping for miracles. (I mean like find something good to buy). And God hear my pray. I saw it at a glance, and I know what I want.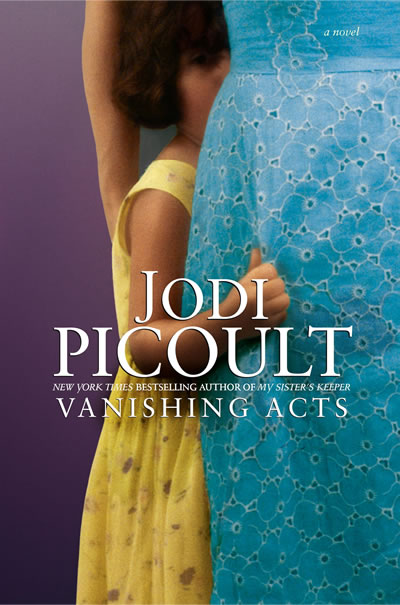 Yaaayyyy.. Novel from my number two favorite author: Jodi Picoult! This is not her latest novel anyway, but that's okay. I've read My Sister's Keeper (maybe you know this one, or even watched the
movie
already) and Tenth Circle. And Vanishing Acts was released in between those two novels. Well, it is translated to Bahasa already, and discounted! Means the price is cheaper and affordable. Curious what's the price:
Rp 44.000
hehehehe.. So, I finally got something from the bookstore today. So happy! Hahaha, can't wait to read it, but next week is my final exam week, so I'll be touching you my newest novel, about two more weeks from now I guess. That's okay! I'm still happy!
Call me a nerd? Well, I am. :)